As a digital marketing agency that focuses on generating exceptional ROI for our clients, there are few things as rewarding as establishing a long-term relationship with a producer who sincerely loves their industry and crafts the very best version of their product on the market. Case in point – our ten-year-long relationship with Tentickle, an international stretch tent manufacturer known for their high-quality, durable and infinitely versatile stretch tents and luxury tents.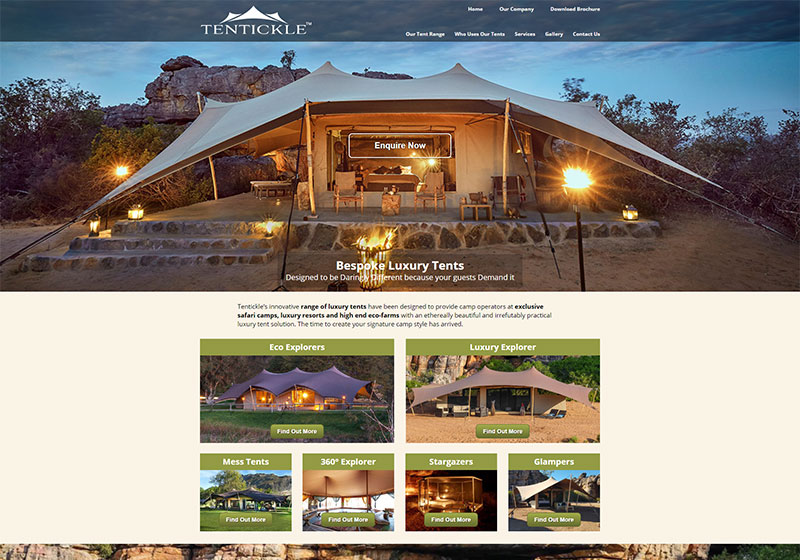 How We Placed Tentickle on The Digital Map
Over the last 10 years, our scope of service has grown, adapted and evolved with the exponential growth of the company, as well as the online marketing requirements as they expanded globally into 35 countries, including the UK stretch tents market.
Expansion Into A New Product Line
During the latter part of 2016, WSI was again engaged to develop an exclusive website for a completely new niche product line that positioned Tentickle as a provider to the luxury accommodation industry with a range of innovative safari tents and glamping tents. It was very gratifying to play a role in promoting these superior quality, exceptionally well-designed products that include a variety of customisable stargazers (mosquito-proof mesh units), luxury mess tents, glampers, explorer tents that allow for 360° views, and more. Tentickle has managed to cater for every possible requirement of the luxury tented accommodation industry and we are very proud to have played a role in this success story.
Where We Plan to Go From Here
Tentickle's future is looking bright. We have recently embarked on a total revamp of their stretch tent site to reflect their refreshed branding and WSI is looking forward to walking the road into the future with this valued client. Our aim is to remain agile enough to adapt our service delivery seamlessly in line with their ever-developing online requirements. The luxury tent product line was recently expanded again, and the website has already been adapted to reflect this exciting development. Utilising blogging platforms such as WordPress, Blogspot, Tumblr, Weebly and Postach.io is included in our best-practice SEO strategies and directory listings, social sharing and content syndication forms part of this process.
This article was originally posted on: https://blog.wsiwebmarketing.co.za/tentickle-stretch-tent-journey/