A uniform clothing store in Massachusetts recently engaged WSI for digital marketing services. The store, First Defense Supply, offers uniform and supplies for law enforcement, fire and rescue, and emergency medical servicespersonnel. The police uniform store provides uniforms from name brands such as Blauer, 5.11 Tactical, Flying Cross and Vertx, badges, IDs and wallets from Blackington and Strong, boots, shoes and socks from 5.11 Tactical, Bates, Corcoran, Matterhorn and Thorlos. It also provides duty gear such as holsters, flashlights, body armor, bags, restraints (handcuffs), batons, tactical gear and riot gear from well-known high quality product manufacturers such as Safariland, Uncle Mikes, Streamlight and Bianchi. The customers in the law enforcement sector includes state police, local police, county sheriff, Federal and correctional officers.
The store also provides uniforms for firefighters and rescue professionals as well as gear and equipment such as Fire/rescue gloves, medical gloves, medical bags, and lights from Safariland, Streamlight, Uncle Mikes.
In addition to uniforms for EMS personnel, the store also provides CPR equipment, medical gloves, and medical bags from the popular manufacturer North American Rescue.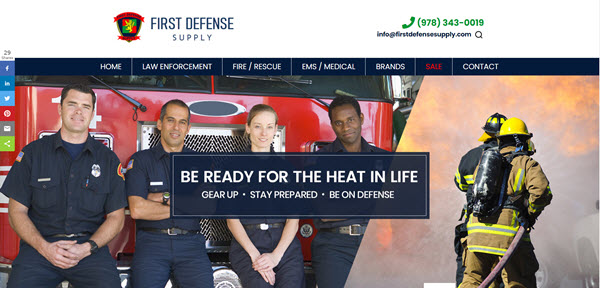 Digital MarketingServices Provided by WSI
The storeinitially engaged WSI to develop a modern mobile-responsive e-commerce website. Whileit prepares its inventory to go online, the store launched the website with the purpose of promoting discounted police uniform and gear. WSI developed a digital marketing program for the store which includes biweekly email newsletters to its customer list using Constant Contact, as well as frequent social media posts on its Google My Business, Facebook, Instagram and Linkedin pages. WSI performed detailed keyword research and on-page SEO has been done on relevant landing pages as well as the social media profiles. Ad campaigns are also executed on select social media platforms to promote the brand.
The objectives of the program are to increase website traffic, drive more visitors to the store, promote sale items and increase social media visibility and brand name recognition.Wewill monitor the store's website traffic and conversions, as well as the followers and engagement on its Facebook, Instagram, Linkedin pages. We are confident that our ongoing efforts in digital marketing will deliver exceptional results for our client.
About The WSI Touch in Greater Boston, Massachusetts
Since 2009, The WSI Touch has helped small and medium-sized businesses in Greater Boston to increase their leads and sales. The company works closely with its clients to explore their needs, goals and target markets in order to suggest the best online solution to generate measurable results.
With consultant in over 80 countries and each of them well equipped to bring their knowledge of global digital marketing trends to your business to achieve the best local results, you can trust WSI has the expertise, advanced insight and power to help you succeed. This post was originally published at https://thewsitouch.com/blog/digital-marketing-for-a-uniform-store/