Allstate Steel is a steel fabricator located in Jacksonville, Florida. The company has been privately held for over 50 years. Allstate Steel specializes in structural steel fabrication, design, build, and erection. Allstate Steel provides steel fabrication services throughout the entire United States as well as Puerto Rico and the Caribbean.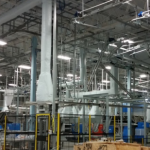 WSI has implemented a Search Engine Optimization strategy for Allstate Steel. The discovery process was initiated by WSI's developing a Competitive Analysis report as the basis for a comprehensive marketing plan spanning SEO, social media, and email marketing strategy. Initially, we identified 10 critical keywords for their business and implemented relevant landing pages. We focused on their primary deliverables in the steel fabrication industry.
Allstate Steel is an AICS certified Steel Truss Manufacturer and Steel Plate Fabricator. They have completed hundreds of Structural Steel Constructions over the years, mainly retail construction, healthcare construction, warehouse construction, and education construction projects.
After several months of working with Allstate Steel, WSI created another Competitive Analysis report proving that our digital marketing strategy implementation is improving the Internet positioning for the customer.
About WSI
 WSI is one of the world's largest digital marketing agencies and a leader in Internet marketing, local SEO, national SEO, Paid Search and Social Media Marketing. With over 1,100 offices in 82 countries around the globe, WSI has helped thousands of companies develop and execute comprehensive digital marketing strategies. Contact WSI today to discuss your goals, or to do an analysis of your current marketing activities.
This blog has originally been posted at https://www.wsiguru.com/blog/.